Proteomics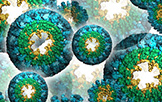 The Proteomics Unit provides researchers with state-of-the-art technologies in the field. Currently, the Proteomics Unit is a specialized platform in quantitative proteomics and MALDI Imaging (or Molecular Imaging).
The Proteomics Unit offers its analytical services for IMIBIC staff and University of Córdoba and to other universities, hospitals and private companies.
The Unit has two main state-of-the-art components: (i) a high performance liquid chromatography-mass spectrometry platform that provides researchers with access to high-throughput proteomics analyses, ranging from protein identification and characterization to label-free quantitative proteomics; and (ii) a mass spectrometry-based molecular imaging platform (MALDI-Imaging) that provides spatial information of metabolites, lipids and proteins directly from tissues and biopsies.
The Proteomics Unit provides individualized, fit-for-purpose support including project planning, sample preparation, mass spectrometry analysis and data analysis.
Personnel
Equipment and Facilities
Q-TOF mass spectrometer, Triple TOF 5600+ (Sciex)
Triple quadrupole mass spectrometer, XevoTQS (Waters)
MALDI-TOF/TOF Mass spectrometer, 5800 (Sciex)
nanoHPLC: Eksigent LC400 (Sciex)
nanoUPLC: nanoAcquity M-Class (Waters)
Sprayer: Sunchrom Suncollect (Sunchrom, Friedrichdorf, Germany)
Main programs (and programming languages) used for data analysis: Protein Pilot, Comet and X!Tandem for protein identification; Peak View, Marker View and Skyline for protein quantification; Tissue View, MSiReader, Cardinal for Maldi Imaging MS. R, Python and Matlab for general analysis purposes.
Basic laboratory equipment for sample preparation
Services
Identification and characterization of proteins by MALDI-TOF/TOF
Identification and characterization of proteins by LC-MS/MS
Quantitative Proteomics:

SWATH
SRM (Selected Reaction Monitoring)
pseudoSRM

MALDI Imaging mass spectrometry
Project supervision and collaboration
Training in software used for data analysis
Relevant Publications
2019
Böhme K, Calo-Mata P, Barros-Velázquez J, Ortea I. Recent applications of omics-based technologies to main topics in food authentication. TrAC - Trends in Analytical Chemistry 2019, 110, 221-232.
Böhme, K.; Calo-Mata, P.; Barros-Velázquez, J.; Ortea, I. Review of Recent DNA-Based Methods for Main Food-Authentication Topics. Journal of Agricultural and Food Chemistry 2019, 67, 3854-3864.
2018
Ortea I, Ruiz-Sánchez I, Cañete R, Caballero-Villarraso J, Cañete MD. Identification of candidate serum biomarkers of childhood-onset growth hormone deficiency using SWATH-MS and feature selection. J Proteomics 2018, 20;175:105-113.

Fernández A, Bayón GF, Sierra MI, Ortea I, Bonilla F, Fraga M. Loss of 5hmC identifies a new type of aberrant DNA hypermethylation in glioma. Hum Mol Genet. 2018 Sep 1;27(17):3046-3059.
2017
2016
2015