Genomics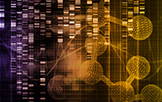 The aim of the Genomics Unit is to provide researchers with cutting-edge equipment as well as with scientific and technical advice for the development of various analytical techniques used in the comprehensive study of DNA and RNA. This allows researchers to obtain high-quality results for the development of outstanding translational biomedical research.
The unit offers its services to researchers both at IMIBIC and other public and private institutions. The Genomics Unit collaborates closely with other Research Support Services, such as Bioinformatics, Proteomics and Cytometry.
Personnel
Equipment and Facilities
Illumina MiSeq (Last update: 30/08/2018)
MiSeq is an Illumina platform sequencing technology based on SBS (sequencing by synthesis), which is currently the most widely adopted NGS (next-generation sequencing) technology in the world on account of its speed, accuracy, and quality. This sequencer can generate up to 15 Gb/run and can perform 2x300bp paired-end reads, leading to greater accuracy, especially in problematic areas such as the ones involving homopolymers. The MiSeq system allows researchers to perform DNA-Seq, RNA-Seq, Methyl-Seq and ChIP-Seq analysis, which have a wide range of applications.
nCounter DX / NanoString technology (Last update: 31/07/2019)
The NanoString nCounter system uses a novel technique of molecular barcodes linked to specific probes that can detect and count hundreds of targets in a single reaction without amplification, so that users can study a large number of mRNAs, miRNAs, and DNA molecules simultaneously with sensitivity and 'gold standard' reproducibility. Its applications include gene expression analysis, gene fusion, copy-number variation (CNV) and simultaneous analysis of mRNAs and RNA regulators such as miRNAs and lncRNAs.
The nCounter Dx is CE and IVD certified for conducting analyses that ensure care quality and, along with these applications, make the nCounter a tool with high potential for clinical use. Currently, there is a CE-marked test for in vitro diagnostics (CE-IVD) on the market, which was approved by the FDA for breast cancer (Prosigna-PAM50), based on the molecular analysis of the gene expression of 50 genes. This lets it classify the tumor into one out of four intrinsic subtypes, related to disease prognosis and choice of treatment. In addition, the launch of another validated kit for in-vitro diagnostics (CE-IVD / FDA) is currently underway, based on 20 differential gene expression patterns, aimed at determining DLBCL (Diffuse Large B-Cell Lymphoma) subtypes, and related disease treatment.
Digital PCR (dPCR): QX200 Droplet Digital PCR System (Last update: 23/03/2015)
The digital PCR offers a more precise and sensitive alternative to conventional qPCR for absolute quantification and detection of rare alleles without the need for standards or endogenous controls due to droplet partitioning.
Quantitative PCR (qPCR)
The unit has 3 platforms aimed at genotyping PCR and gene expression studies:
Light Cycler 480 (96-well platform)
Light Cycler 96 (96-well platform) (Last update: 14/12/2016)
7900 HT Fast (384-well platform) (Last update: 17/02/2020)
With regard to IMIBIC research staff, the unit offers the possibility of using the qPCR platforms under a "self-service" scheme (without technical operator).
Others
The unit has additional appliances designed for quantification, quality analysis and determining the size of nucleic acid fragments:
Nanodrop ND1000 (Spectrophotometer) (Last update: 05/11/2015)
DeNovix DS-11 (Spectrophotometer) (Last update: 30/10/2018)
Quantus (Fluorometer) (Last update: 24/07/2015)
2200 TapeStation (Microelectrophoresis) (Last update: 05/11/2018)
A grant to finance the unit with new equipment (Biomark HD) has been recently awarded and that will allow, among others, perform high throughput genotyping analysis.
Services
Technical support and scientific and methodological advice on the choice and optimization of genomic techniques
Design support for NGS or NCounter targeted panels
Technical and scientific support in the use of qPCR platforms and probe design
Nucleic acid quality controls (spectrophotometry, fluorometry and microelectrophoresis)
Analysis of targeted gene expression panels (up to 800 genes) using NCounter System
PAM50-signature Analysis (ProsignaTM) for breast cancer prognosis
Analysis of custom panels for detection of targeted fusion genes by NCounter System
Screening of up to 800 miRNA in tissue, peripheral blood cells and serum/plasma by NCounter System
Screening of up to 800 lncRNAs by NCounter System
Gene expression and genotyping studies using real-time PCR
Absolute quantification by Droplet Digital PCR System (viral load analysis…)
Liquid biopsy: Rare mutation detection in cfDNA by ddPCR
NGS library preparation
Analysis of SNVs, Indels and CNVs by NGS or Ncounter System
Characterization of microbiome by sequencing of 16S rRNA gene using NGS
NGS (next generation sequencing) by Illumina Miseq
Training and support in the use of data analysis software related to the unit's technology
Project supervision and partnerships
Highlights
Since the creation of the Unit in 2015, the number of projects and researchers using our services have grown progressively. Our unit analyses approximately 2.500 samples every year.
We participate in a multidisciplinary team with the Reina Sofia University Hospital to implement protocols for genetic/genomic diagnostics within the Andalusian Public Health System. Among others, we have been accredited to carry out the tests based on the genetic signature PAM50, which evaluates the expression or activity of 50 key genes in tumor tissue, allowing us to estimate the risk of recurrence of breast cancer.
Our unit acts as a test lab within the Translational Research Program of Nanostring, to test the Lymphoma Subtyping Test (LST). This test determines cell-of-origin subtypes of diffuse large B-cell lymphoma. NanoString's Translational Research Program is designed to enable research collaborators with the goal of basic research and continuous improvement and expansion of products leading to clinical development.
We participate in the Pharmacogenetics Work Group of SCReN - The Spanish Clinical Research Network of the National Institute of Health Carlos III - and also in a programme of Fundación Pethema, that aims to implement NGS as a diagnostic tool for Myeloid leukemia.
We actively participate in clinical studies, such as a study of cell-free DNA by NGS for pharmaceutical treatment of Colon Cancer.