Bioinformatics Unit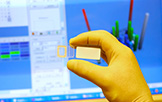 The mission of the Bioinformatics Unit is to provide engineering and computing resources to satisfy both the bioinformatics analysis requirements and the different technological needs that result from research and clinical practice, with an emphasis on the promotion and implementation of state-of-the-art technologies.
The aim of the bioinformatics area is to support researchers with scientific advice for the experimental design, ad-hoc genomic data analysis, and data visualisation. The unit is currently setting up robust workflows for the various and most common types of genomic data analysis, highlighting the quality control on the several steps to achieve the best results. Also, the Unit plans to be continuously updating to improve the current services and to broaden them in the future based on demand.
Personnel
The Bioinformatics Unit is composed of:
Equipment and Facilities
Computing resources:

BullX R428-E3 node. 4x Intel Xeon E5-4610v2 8c, 32 cores. 256 GB RAM

3D Printer:

BCN3D+ Fused Deposition Material Printer (Last update: 2019)

Development resources:

Apple Mac Mini for iOS app development (Last update: Mayo 2020)
Services
Ad hoc analysis of relevant research projects and technical data needed for support
Bulk RNA-seq analysis. The current implemented workflows are based on the use of different aligners (HISAT2, Bowtie2, STAR, salmon, kallisto) to map the reads to genomes or transcriptomes to perform differential expression analysis.
Biological significance analysis. Further information can be extracted from the data by performing over-representation analysis (ORA), Gene Ontology analysis (GO-terms), pathways analysis (Kegg database), or through gene-set enrichment analysis (GSEA).
Phylogenetic analysis. The Unit can perform phylogenetic analysis at monogenic and multigenic levels, and also use kmer approaches to carry out the analysis with a more genomic perspective.
De-novo genome assembly. De-novo assembly of prokaryotic and eukaryotic genomes. Assembly with multiple approaches and sequencing strategies.
Functional annotation of bacterial genomes. Functional annotation of bacterial genomes under Prokka pipeline. Specific databases for each problem and information expansion.