Biobank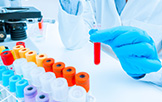 The IMIBIC's Biobank is one of the support units of the institution that works as a link between the sample donors, clinicians and researchers, with the aim to ensure safe and efficient storage and handling of the biological samples that have been approved for their use in biomedical research, and compliance with the applicable ethical and legal regulations.
The Biobank is part of the Biobanks of the Andalusian Public Health System (SSPA) and the Thematic Networks of Cooperative Research in Health (RETICS), which is an initiative of the National Institute of Health Carlos III (ISCIII). Both these networks function in a common framework based on strict ethical guidelines.
The Biobank unit has a Quality Management System in accordance with the ISO 9001:2015 Quality Standard.
Personnel
Equipment and facilities
The Unit has its own laboratory resources for sample transformations (Safety booths, PCR Booths, Microtomes, Chryostate, Flotation Bath, Centrifuge, Histobath, Automatized Processor for Paraffin Inclusion, Paraffin Dispenser, etc.) as well as other machinery such as:
Tissue Safe: fully automated preparation of tissue samples in a vacuum.
Tissue Arrayer: assembles different tissue samples in a single multiple matrix for subsequent histological analysis.
Quiacube: Automatic, compact system for analysis of DNA, RNA, plasmids and proteins from varying samples.
For sample storage, there are currently two freezers: one for temperatures of -20 degrees Celsius, seven for -80 degrees Celsius, as well as paraffin storage rooms for room temperature.
Services
The service portfolio is divided into four main areas:
Custody for storing samples at different temperatures.
Processes for transforming multiple types of biological samples in accordance with the procedures and technical criteria commonly used by researchers in their projects.
Provision of human samples and data on human health and disease research, selected according to clinical and diagnostic criteria specified by researchers.
Technical, scientific and ethical consulting regarding the collection, storage, and management of human samples in biomedical research.
Biobanks and Biomodels (PLATFORMS ISCIII))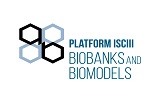 The newly created Platform for biobanks and biomodels will manage biological samples of disease through the coordination of supply services including, also, conventional samples through virtual biobanks. In turn, the Plaftorm will work on the development of services in the field of organoids, animal models and 3D tissue printing.
HUB BIOBANK
HUB ANIMAL MODELS
HUB ORGANOIDS AND 3D PRINTING