Technological Innovation Unit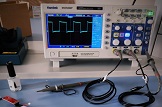 Our main objective in the Technological Innovation unit is to design and develop, for research and clinical personnel, scientific-technological and industrial projects using prototypes of medical devices, in addition, thanks to our laboratory for the design and construction of 3D design prototypes, 3D printing, electronic systems and development of software solutions, it represents a major boost for the development of innovation and technology transfer related to the rapid prototyping of systems, in the field of medicine.
Personnel
Technological Innovation unit has the following members:
Facilities and equipment
FDM 3D printer (2 units): Ultimaker S5 equipped with Air manager S5 and Material Station. (Last update: February 2020)
SLA 3D Printer: Formlabs Form 3 with Form Wash, Form Finish Kit, Resin tank and Build Platform. (Last update: February 2020)
3D design software with Solidworks 2020
CNC machine with protection cover: Stepcraft 840 (Last update: February 2020)
Test stations for electronic devices and PCBs.
Hanmatek SD1 Soldering Posts (Last Update: February 2020)
Oscilloscope: Hantek Dso5202p, 2 channels 200Mhz, 1GSa / s. (Last update: February 2020)
Laboratory power supply (2 units): Velleman LABPS23023. Power supply: RPS 24V 5th (Last update: February 2020)
Bioinformatic services
Digital multimeter: Lomvum T28B
Apple Mac Mini for iOS app development (Last update: May 2020)
Services
3D modeling and printing with FDM and SLA technology.
Design and manufacture of devices, electronic and electromechanical equipment in general.
Electronic prototyping of circuits (with FPGAs, microcontrollers, DSP, AO, etc.).
Electronic prototyping of circuits (with FPGAs, microcontrollers, DSP, AO, etc.).
Schematic and PCB design, PCB circuit assembly on different substrates (maximum size 229x305mm).
Infrared Hot Air Soldering / Desoldering (BGA), SMD and Throwhole Component Mounting.
Ultrasonic cleaning of electronic circuits (maximum volume 4 liters).
Low-level programming: microcontrollers, FPGA reconfigurable hardware devices, etc.
Software development.
Design and implementation of algorithms.
Database construction and data capture from instruments.
Engineering and consulting.